L'Etape du Tour
Over the hills and far away
Following what can only be described as a disastrous few months of intermittent training, a fortnight ago I ventured to the scarily named Black Mountains in Wales for, not only the longest ride I had attempted, but also my first ever serious climbing session.
Tough at the top: the Black Mountains were a good test

With some trepidation I boarded the train at Paddington wondering what lay ahead. Upon arrival in Abergavenny I, along with Simon O'Hagan and Graham Bence from the Independent's Etape blog team, were met by Rob Penn – an author, freelance journalist and cycling nut – who has set up Bikecation, a cycling holiday company. Bikecation also run sportive training weekends in the Brecon Beacons, designed to help similarly minded individuals achieve their goal of completing L'Etape du Tour in one piece. Or if, unlike me, they are a little more experienced, to develop riding skills and overall performance.
Rather than enjoying the full bespoke service that Bikecation Etape Training provides in the weeks building up to L'Etape du Tour, Rob had – very kindly – organised a bite-sized chunk of what is on offer to the growing number of Etapees. A short transfer later we arrived at the Gliaffes Hotel where James, its friendly proprietor, greeted us. With a glint in his eye, James served us generous bowls of chicken pasta and was on hand to make sure we ate every last morsel. "You're going to need all the energy you can get for tomorrow chaps. I've seen where Rob's taking you. Rather you than me." With a full belly and James's words ringing round my head I retired to bed and plugged into some Pink Floyd. Sinking into a deep sleep I was, indeed, feeling Comfortably Numb.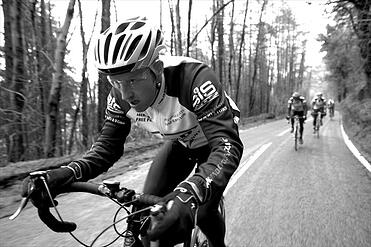 At breakfast we were met by Yanto Barker, a professional rider with a decade of experience and a member of Team GB in five World Championships. Yanto is also the owner of Le Col, the premium outdoor clothing brand. Following a short chat about individual goals, experience – or inexperience – and the ride we would be doing, I decided a bowl of Weetabix and plate of scrambled eggs with smoked salmon wouldn't be enough to drag me through the day. A bowl of porridge and cup of coffee later and we headed out to meet the rest of the team.
Yanto and Rob acted as our guides while local cyclist Chris drove the support vehicle carrying any extra kit, liquids, energy bars, gels and fresh fruit – all of which is provided to riders on the training weekends as part of the package.
The day started pleasantly enough as we worked up to a steady pace through the country lanes around the Usk Valley – not that I had too much time to admire the beautiful scenery.
Just 4.1 kilometres (2.6 miles) into the ride we hit the first climb. And what a climb it was – at some points reaching a gradient of 12 per cent, similar to some sections of the dreaded Mont Ventoux. We climbed 391 metres (1283 feet) over 6.8km (4.2 miles) and boy did I know it by the time I reached the summit – trailing the others by a distance. In my defence, I was riding with one professional, two Etape du Tour veterans and someone who had ridden around the globe.
After regrouping just beyond the summit, where vital liquids and fresh fruit were taken on, an 8km (5 miles) descent followed and, as I caught my breath, I chatted to Yanto who was a constant source of encouragement as he drip-fed me tips on climbing, descending and, most importantly of all, how to save energy when riding in a group.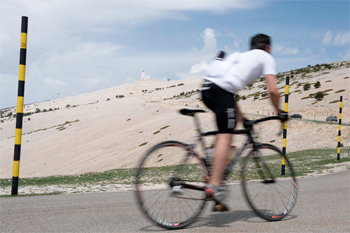 As we prepared for the first sizable descent – a drop of 414m (1358ft) over 7.1km (4.4miles) – Yanto gave us some local advice on what to do if a sheep stepped into our path. Apparently grab the top of your handlebars, lean back and make sure you hit it in the middle. Sound advice, but luckily none of us had to take heed.
Throughout the day Yanto was keen to see how I rode within a group – particularly as I had let him know I was a novice – and constantly badgered me to tuck in behind him and take his wheel, using his slipstream, whenever I could. Knowing he was a professional gave me the confidence to get as close to his wheel as possible.
As the day progressed, I sometimes rode within millimetres off his wheel. On more than one occasion I just dropped down on the handlebars and practically rode blind. On a commute ride I would have been terrified; however, on the open roads it was exhilarating.
During the remainder of the ride we tackled two more serious climbs, well, they were to me, and a beautiful 9km descent. Throughout the day I rode a distance of 101.34km (62.97 miles) climbing a total of 1446m (4744ft).
A little cramp after the final climb came as a warning sign to me as I started to suffer a little, though luckily we were only a 30 minute ride from our hotel which meant one thing – a much-need sports masseuse, tea, cake and more cake.
Chapeaux!
Written by John Macleary and published in the Telegraph